Your e-commerce store does not generate sales?
You have created an online store but can not find customers?
Your Shopify shop in Dropshipping does not take off?
This is unfortunately a more common situation than one would imagine. Noticing that no sale is made is obvious and disarming, but finding the reasons is another pair of rounds.
In this article, we will look at the reasons that make your ecommerce site does not generate sales. Together, we will diagnose all the elements of your online store. 
#1 : Is your website traffic big enough ?
If you are here, you already have a minimum of traffic on your website. As we discussed in the article "How much money is needed to get started in Dropshipping" the average conversion rates that apply in e-commerce range between 1 and 2.5%.
In order to schematize: if you have 100 visits per month on your site, you should draw 1 to 3 sales minimum. Your main development lever will be to increase the number of visitors to your website while keeping an eye on your conversion tunnels.
Whenever possible, work on purchasing intent as part of your traffic acquisition strategy. To do this, when searching for keywords you are positioning, talk about those that involve a motivated action to move quickly to purchase.
Among these engaging keywords, we will work on the occurrences "Buy product X", "Become XX quickly", "Comparative product X" or "Best product Y of the year 2020". If your site offers the minimum required in terms of ergonomics, you will see your order number grow and your conversion rate increase significantly!
#2 : Design and your legitimacy 
The appearance of your site is an important vector of trust that is generated in the user. Indeed, if the design of your site is too amateur or if your sales pages are too similar to these thousands of sales pages miracle products, you will have trouble gaining the trust of visitors.
Another reason that your site loses legitimacy and therefore that you may not have sales: spelling mistakes, grammar or syntax. Of course, some mistakes can always slip into a text. It has already happened to everyone: you are launched body and soul in your writing, you write hot … and now shells have become part of the editorial!
The idea is still to build clear sentences, well written and above all: who speaks to your customers!
#3 : Your price
In e-commerce, when an e-commerce site does not generate sales, it is necessary to look quickly at the prices of the products offered.
All areas are competitive, and some more than others. If you worked well upstream, you selected a niche and studied your prices. Despite this, you will always face similar sites, especially if you do Dropshipping.
There are several ways to stand out to justify your fares :
Create your own brand: creating your own brand means completely mastering your product. By creating a brand, we rally the consumers to their cause and we can develop a certain belonging on their part.
Working on the graphics of your articles in POD: the key to a POD shop is to work on a strong identity within a community. Adapt your codes, modes, key phrases and key design, etc.
On the other hand, if you are in the situation of general e-commerce site and suffer from the competition, it will be essential for you to monitor daily the prices of the main competing sites! If you use Shopify and Oberlo, there are add-ons allowing you to automate a maximum this day.
#4 : The performance of your website
Do you know that if your e-commerce site does not generate sales, it may be because of its performance?
However, it is nowadays one of the most important causes of the lack of transformation of a website:
A page that takes too long to load
Images that do not display
A "buggy" link that leads to a 404 error
An overly long sales process
A pop-up window that is difficult to close or just does not close
etc …
In addition to penalizing your SEO, all these small problems will cause the user to leave your website before having validated his purchase!
Have your website tested on WebPageTest by example.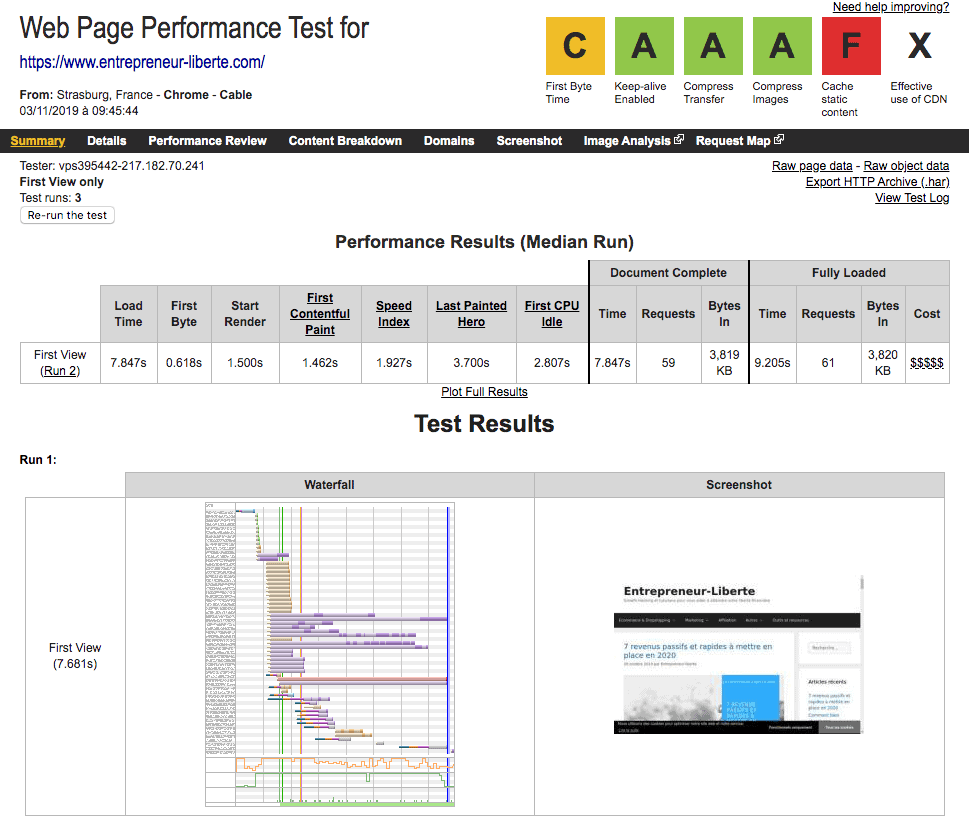 If, despite all these checkpoints, your website still does not generate sales, you can still call on a specialist on the platforms of the type Fiverr.
Do not hesitate to ask your partners to test your e-commerce site. It's the same for your products: ask their customers for their opinion!
---
On the same topic, you might also like :
Join our Facebook Group to speak about it with us !