Having an optimized theme is paramount when you have a shopify shop. In the jungle Shopify theme, I tested for you Speedfly, a theme paid but on paper looks promising, what is it really? Is Speedfly a good Shopify theme? Is it optimized to maximize your sales? The answer in this article.
One of the best French Shopify themes
I will not do more suspense, Speedfly is a very good Shopify theme with many assets. It is now considered one of the best French themes for Shopify and it's not for nothing. Speedfly is easy to use, its setting is easy and its possibilities numerous. Speedfly has been developed by and for experts in e-commerce and dropshipping and this is reflected with this theme. Everything is optimized and thought to increase your conversion rate.
And concretely, what can we do with the Speedfly theme for Shopify?
Speedfly is a very complete theme, and allows you to make Multi product AND mono product according to your needs. This is one of the rare theme if not the only one to allow this possibility and considering that when you buy your Speedfly license you can install it on three Shopify stores, so you can have a shop in mono product and another in Multi product with the same theme and thus paying only once. To go from a single product store to a Multi product store is very easy and there is only one check box.
A theme to save you time
The realization of a shopify shop can sometimes be time-consuming, the various applications that you have bought several tens of euros and downloaded on your store sometimes do not work between them, the theme that you have sometimes can not achieve what you want , you do not find the right options and can not configure your shop as you want. All these problems fly away with Speedfly. This theme is designed to save you time and optimize your store.
Many features are already present and pre-configured to save you time such as:
The theme is optimized for SEO
Take into account the RGDP
FAQ possible and already pre-configured
Security badges are already included
Ability to have a progress bar of the remaining stocks on your shop
Tabs on product pages already present and pre-configured and filled
A perfectly responsive theme
Switch from one Speedfly theme to another in one click (mono product to one of the two Multi products)
Speedfly, an optimized theme to boost your conversions on your Shopify store
Speedfly has been thought of and created to boost conversion rates. There is for example natively included in Speedfly :
Add to cart with one click
A clean design, which does not lose the consumer and goes straight to the point, buy the customer.
Pages load quickly, and in e-commerce more than anywhere else, time is money, every second of extra loading of your site makes you lose customers.
Buy vibrating button
Countdown, limited stocks, all elements to give an urgency to the buyer are present.
Ability to do upsell, which will increase your average basket quickly and easily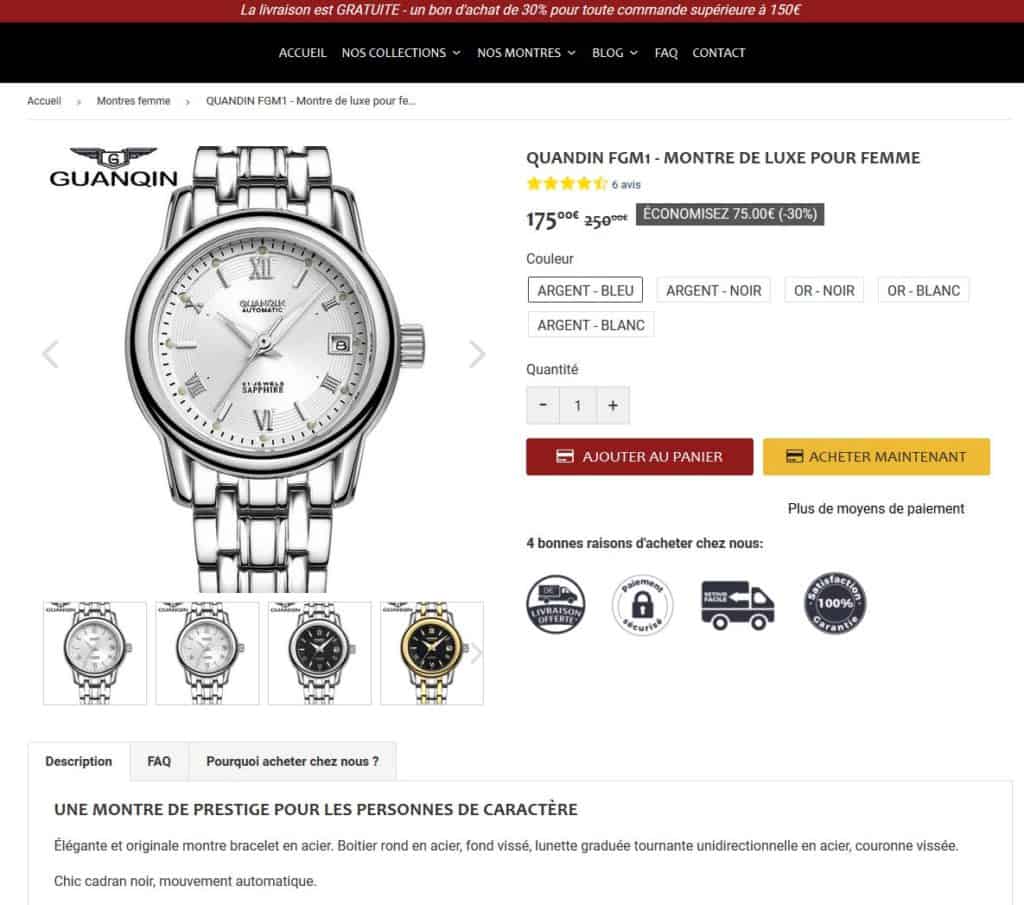 A theme that will save you money
Speedfly includes in its theme applications that you would have to pay otherwise with usually a monthly cost and therefore recurring as :
Emergency (stock and timer)
Upsell at the product sheet
Upsell via a game (wheelio type)
Security badges
Recommended products
Buy vibrating button
Compliance with RGPD
etc …
Speedfly You will save more than $ 100 per month in various applications that you will not have to shell out as it is fully included in the theme.
In addition, the Speedfly license is valid for three shops, the price of 187 euros for a license for life, is therefore in fact 187 euros / 3 or 62.33 euros per shop. You will be able to use Speedfly for the next Shopify stores that you open. It is the best value for money on the market.
You can see shops made with Speedfly via the three links below :

– Shop multi-products with Deluxe version
– Shop multi-products with classic version
– Mono-products which allows to compete with products like Clickfunnels

An evolving theme and listening to customer feedback
The Speedfly team listens to market news and customer feedback and, thanks to the recommendations and comments they receive, they adapt their product to keep up with the latest trends.
A theme entirely translated into French and created by a French company.
Because yes, everyone does not speak English fluently, then, we are French, we can be a bit chauvinistic sometimes and be proud of our companies and services made in France! Do not hesitate and go for it if you are looking for a theme to boost your shopify store.
What good reasons to choose Speedfly
Theme 3 in 1, with the possibility of installing the theme on three different shops with a single license. This makes it a theme with the best value for money in the market by far.
Theme 100% made in France, the whole theme is also entirely in French.
License for life, updates are included, you will not have anything else to pay.
Design and loading time very fast.
Everything is thought and optimized for dropshipping and increase its conversion rate
Many applications included in the theme that are normally paid.
Subject planned to respect the legislation with the EU cookie banner and the respect of the RGPD
A Facebook group dedicated to listening to customers.
Do not wait any longer and increase your conversion rates with Speedfly
More informations about Speedfly
Enjoy 14 free trial days Shopify
What is dropshipping?