Have you decided to enter the world of dropshipping and have you chosen to sell products on Amazon FBA or Aliexpress? Or maybe you've been a salesman for some time now? In this case, this blog post about Jungle Scout is for you.
We will introduce you to an extremely powerful tool to develop your online sales business. Do you know Jungle Scout? It's a software and an extension that allows you to find profitable products for sale in your online store, whether on Aliexpress or Amazon. Jungle Scout provides lists of products that are potentially winners products and worth selling. The software takes into account dozens of criteria at the same time.
Jungle Scout is not free but it can quickly be profitable in a single winning product. However, it is important to know all its features and all the benefits it can offer before investing. What is it used for ? What are the advantages ? How is it used? What can we win?
It is first necessary to know what Jungle Scout is before using it. We told you that it allowed to recognize a good product, but by what means?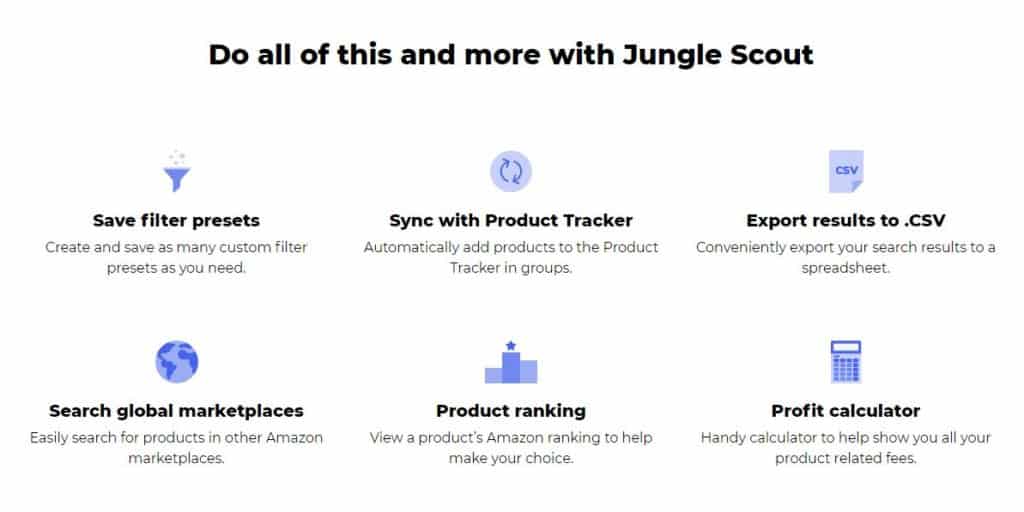 It's software that was created by Greg Mercer who was a seller on Amazon. Aware of the complications encountered during manual searches for winning products, he decided to make available to sellers an easy, clear and above all fast search tool.
It determines the sales potential of an article to let you know the best products for sale so that your business is profitable.
What is your benefits to use Jungle Scout?
Time and money! Using this niche winners search tool is a real time saver for all entrepreneurs in the dropshipping.
When these tools did not exist yet, vendors had to apply the manual method and this involved a lot of work, time and analysis. Indeed, they were forced to consult the list of best sellers by category and sub-category on Amazon. And this is only after more complex searches to filter results by price. It was also necessary to estimate products with low competition manually. As you can see, finding a winning product was a battlefield in the old days.
With the arrival of Jungle Scout, instead of spending a lot of time trying to find the product that pays off with the good old method, you can find a profitable product in minutes for your niche.
A small example, when you search for a product indicating the criteria of your choice, Jungle Scout displays the results in ascending or descending order, depending on the quantity sold or the turnover per month. You can then see interesting results that you may never have found. In addition, it is possible to review the product sheet of other competitors on Amazon very easily and study the sales potential.
Find a niche product with Jungle Scout filters
To determine cost-effective products, Jungle Scout provides you with features that can make dropshippers work easier. The ranking of products is based on several criteria. You just have to search according to the filters you want.
Jungle Scout offers methods to find an article that suits you by following your directions. In short, the list of potential products will be refined by taking into account the criteria of your choice: the quantity of comments, the selling price, the turnover per month, the notes of the product etc …
For example, you want to sell a product that weighs 4 kg and you can sell between 40 and 75 euros. Just give these properties to Jungle Scout and it will filter the results.
Product Ranking by Category
If you want to start selling online and do not know where to start, you can already make a list of categories that may interest you or where you have some knowledge, no matter what it is.
It is still not advisable not to bet on categories of products such as electronics or food, if you are a beginner in dropshipping.
And then you can filter category searches with Jungle Scout. Just select the categories in which you want to search.
Ranking by keywords
It is possible to perform searches by optimizing on the keywords related to the product that suits you.
And in addition, you can also enter the keywords to exclude results. To summarize, with Jungle Scout, you have the opportunity to find an article that fits you just by indicating the keywords related to the lexical field of the product.
Ranking by number of critics
We must take into account the number of criticisms when we look for the ideal product. Fortunately with Jungle Scout, it is possible to review the number of comments made for each article.
So you will not have the bad surprise to choose a product that will please no one and you will lose money instead of winning.
Other factors are also examined by Jungle Scout: rank, rating, level and listing quality of the product.
What is the price of Jungle Scout?
The subscription to Jungle Scout offer is not free and costs $ 49 per month (if you take the annual subscription it goes down to $ 39 a month). It is an investment but it can be very quickly profitable by finding winning products.

How to use Jungle Scout?
To use Jungle Scout, you have the choice between its web application and its extension in Google Chrome. The Chrome extension is very convenient to use and fits perfectly in the browser. We prefer, for our part, the standard software.
The Jungle Scout web app
The web app has a nice interface to use. Despite being in English, it is easy to use and master for a non-English speaking person.
With the web app, you must first login with an email and password to access the Jungle Scout member's area. After, you just have to add the products you want to follow. You then have the opportunity to do any research you want regardless of the number of criteria.
You will be able to use several functionalities :
Access to multiple filters (previously cited)
Spying on other dropshippers to be able to recognize a product with a high turnover without too much competition
Access to sales history
Effective in the United States as well as in Europe
Tracking of 40 products
Access to the database of all articles
For this offer, only a user can use the application.
The extension of the tools in Google Chrome
The extension of Jungle Scout on Chrome is very easy to install, like all other extensions.
Its main advantage is its simplicity of use at any time. The extension really saves time.
For example, you are browsing Amazon for a product that can make big money. With the Jungle Scout extension, all product details appear directly on your page. No need to open another application or tab, you get information right away.
Our final review on Jungle Scout, the search tool for profitable products
As mentioned above, Jungle Scout is an extremely useful tool for sellers on Amazon and Aliexpress, and has already proven itself.
If you want to save time and find winning products quickly, Jungle Scout is one of the best tools on the market. Do not hesitate to test it for a month.
Post on the same subject :