You know all the micro-services platforms, we've already talked about them in our article "How to make money on the internet?". Their operating system suits you well? Simple, effective, put in relation between buyer and seller without having to solicit … But how to earn money through micro services without special skills? Fiverr is here for that …
Follow the guide !
Make money on the internet with micro-services
In reality, there are many services that do not require any special skills. Many buyers come to Fiverr mainly to save time and focus on the tasks for which they are the best. A small panorama of the services you could offer today and earn your first dollars/euros on the internet.
#1 : Make money on the internet with Fiverr with the Transcription:
The transcription of text consists of transcribing an audio document. This can be a podcast, a documentary, an audio article, a conference, or even just oral notes taken on the fly by the author.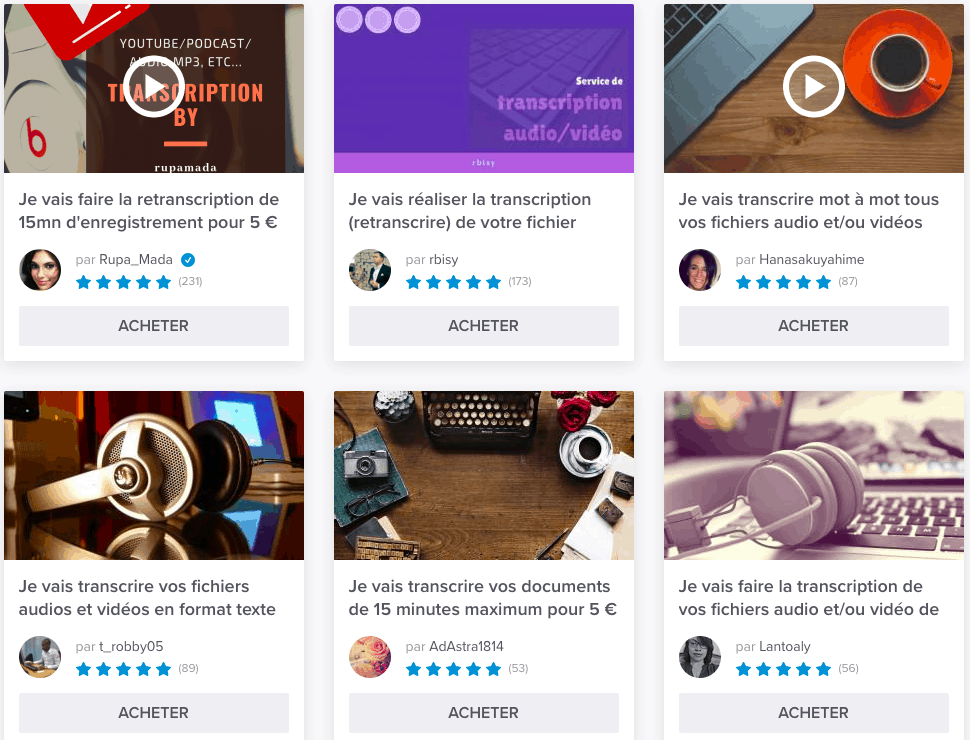 Anyone can do transcription, as long as you have a computer or tablet with keyboard (more comfortable to grab). Know that there are different levels of transcriptions, allowing you to change your rates:
Faithful transcription: it's the most raw text transcription. We insert word for word what is said orally
Commented transcription: faithful, adding the moments of hesitation, the elements that we would see in video but that we do not guess in writing
Literary or reworked transcription: the one that has the most value in our opinion. Between spoken and written language there is often a world. The principle of this type of transcription is to rework the text so that it is perfect in its syntax, grammar and spelling (obviously).
#2 : Data entry on Excel or Google Sheets
Many business owners do not necessarily have time to waste on capturing tens or even hundreds of data and prefer to delegate this task to someone who would be: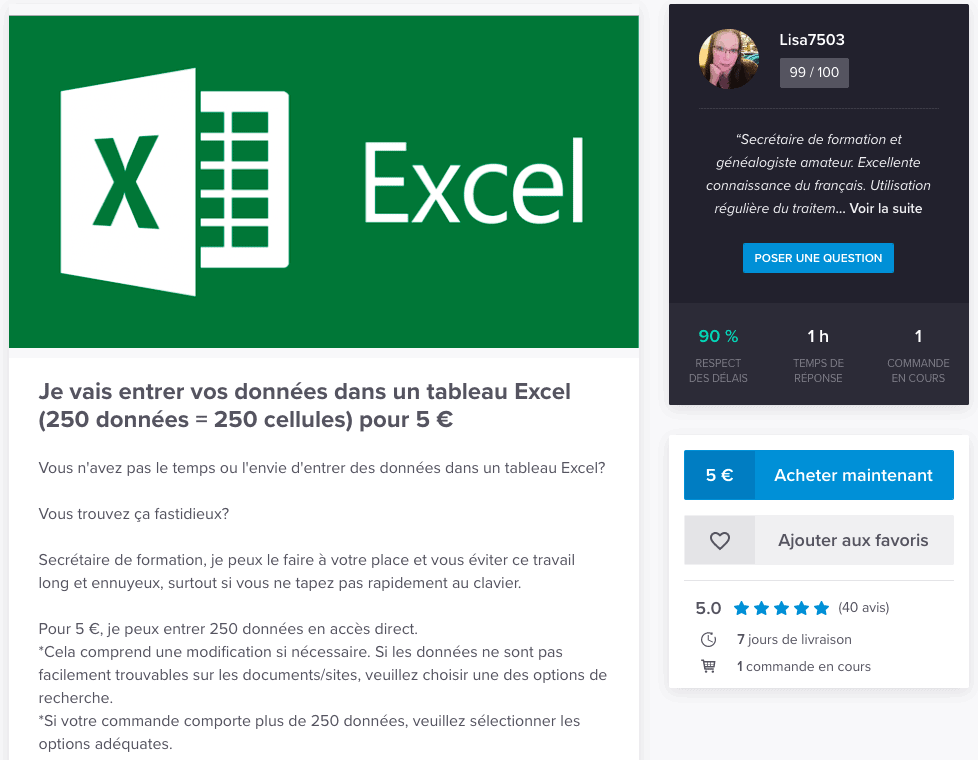 Probably more comfortable on Excel or Google Sheets
Available a few hours to do this task in their place
Indeed, what gives value to a business leader is its decision-making, its signed contracts, its focus on its commercial development. Entering contracts worth several thousand euros will enable him to make his company sustainable.
#3 : Graphic creations
To all aspiring designers, there are many ways to make money on the internet with Fiverr. You do not have to be an expert on photoshop to do some basic graphic work! Be careful however, do not expect to ask several hundred euros for the creation of a graphics pack, but position yourself on the basic offer with two or three options well positioned.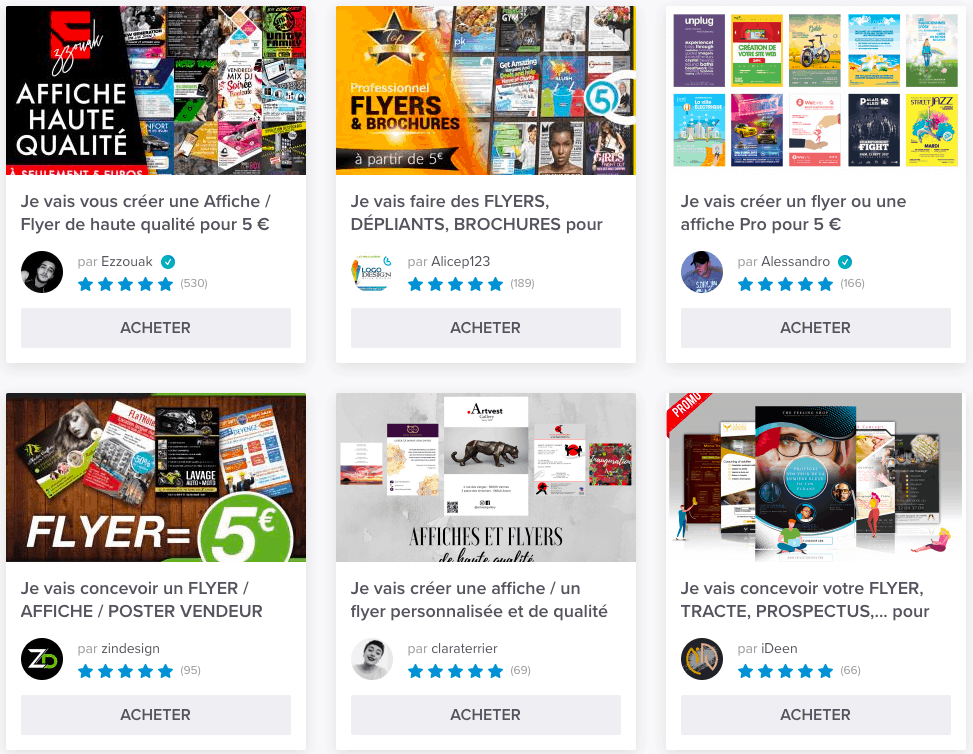 With Canva, you can provide high quality work to people who have neither the time nor the creativity to do it :
Business cards
Flyers / posters
Timeline Banners Facebook, Twitter
Twitch / Youtube banners
Instagram Posts
Instagram Story or Snapchat
etc …
Avoid venturing into logo creation if you do not have skills, since the problem of commercial rights can be dangerous for you.
Our advice: as for dropshipping, try to nestle! Check out what's on the side of new formats (or less universal) like Twitch, Pinterest, Snapchat geo-filters, etc …
#4 : Do you have a blog ? Sell a link!
If you are lucky enough to have a blog at least visited, or even a network of blogs, go check your different Ranking metrics (SEMrush by example). Depending on your overall rating, you can sell more or less your link.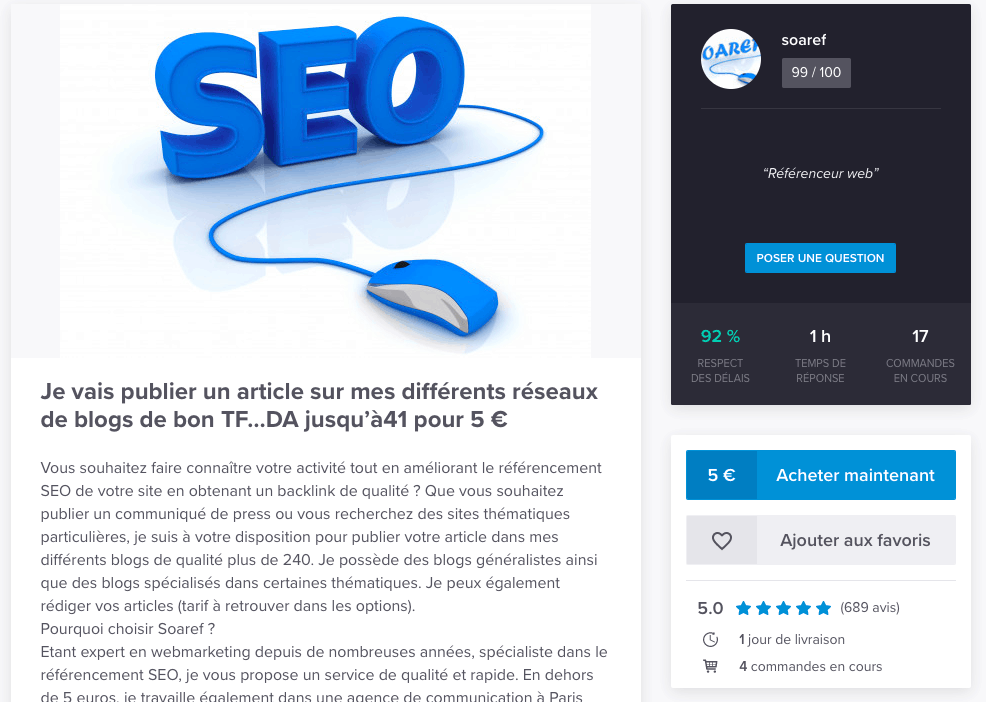 Again, consider playing with the different options available :
Writing the turnkey article
Publication of several articles
Several links in the same article
Relay on your social networks
etc …
#5 : Some other ideas in bulk :
You do not have skills but a talent? Dig the track in the unusual category, some offer photos, montages, musical creations, dedications, etc …
Subtitling: It's sort of a sub-market for transcription. Some people are simply looking for someone available to transcribe a text and put it in the right format for captioning.
Internet search: as crazy as it may seem, there are search services on the internet. Do not expect to earn additional income only with this service but still: it has the merit to exist! Why not get paid a few euros to do research instead of other people?
Correction of text: you write rather well? Do you like juggling words? Offer a proofreading and correction service. Towards the end of the school year, you will probably be asked to re-read / correct reports and memoirs.
There is an incredible number of possibilities to make money on the internet with micro services on Fiverr without skills.