In your project to launch e-commerce site in Print On Demand (POD), you may be wondering how to get visual salespeople?
If you have a large budget, you can obviously seek the help of a photographer and some models to stage your products. But let's be honest, we seldom have enough budget, especially when we launch our online store.
Today there is an almost magical solution, once reserved for the best graphic designers but now accessible to all: the use of Mockups.
What is a Mockup?
You have probably already crossed this word, without perhaps knowing what it meant.
A mockup is a scenario of a visual on an object, clothing, device, etc … It could be compared to a model to illustrate what the final object will look like in reality.
There are mockups available for all products: websites, flyers, book covers, mugs, store sign, car branding, and all clothing, including t-shirts.
Initially, graphic designers and web agencies used the Mockups to sell their products and allow their customers to imagine the final rendering. Now, thanks to the online solutions that will be presented in this article, everyone is able to use Mockups to boost their online store in POD
Why make a Mockup?
Concerning your POD shop, most of the Mockups that we find offer scenarios thanks to manikins. First of all, it is difficult to envisage such an investment without drastically cutting its margin or increasing its prices at the risk of being out of the market.
If, in your Dropshipping shop, you only sell your t-shirt designs without a scenario, visitors to your site will have trouble projecting themselves. Everyone wants to see a garment worn so that it can project.
This is even more the case if you sell products with a design close to what many of your colleagues sell: it is the choice of Mockup that will allow you to stand out and trigger the crush.
Mockups are appreciated wherever you post them: on your shop, of course, but also on your social networks and why not flyers. Also, the perception that will surround you, your friends and potential customers will be much more professional.
The best sites to make Mockups for his shop POD
How to make a Mockup to sell its products in POD?
There are basically two ways to work for this.
The first, the original, is to open its image processing software: Photoshop. If the Mockup is already created, simply insert its design in the defined layer. Explanation in video below. Disclaimer: We do not sell Entrepreneur Freedom t-shirt, sorry 🤓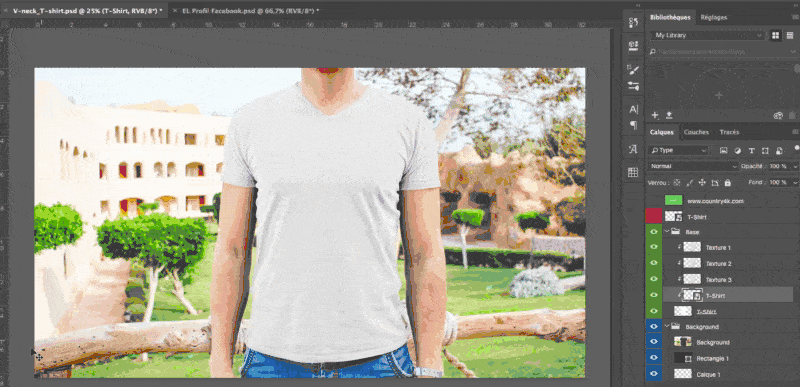 The second way is to go to sites that manage all this embedded. There are several, but we will devote for the moment to only one of them: Place It
#1 : MockupCloud : original Mockups for his POD shop
We wanted to present you first MockupCloud, one of our favorite sites of the moment to create Mockups for our shop in POD.
MockupCloud is primarily for Photoshop users. If this is not the case today, do not give up this solution. Indeed, the grip is extremely simple.
In concrete terms, the principle of MockupCloud it is to propose packs of Mockups in PSD format. All these packs can be purchased individually or via a full access subscription of $ 129. The price is amply justified as the database is huge, and you will profit from this investment.
The strength of MockupCloud ? From our point of view, the infinite possibilities in terms of customization: backgrounds, visuals, design, and export especially since we take the hand on Photoshop.
Finally, if you want to stand out from your competitors, opt for MockupCloud. Most people choose the ease option when working with embedded solutions. Result: we find the same mockups on all the shops.
Moreover, MockupCloud offers some free mmockups in PSD to test on your shop in POD
#2 : Place It : a huge database of Mockups
The PlaceIt model runs on a monthly subscription system of $ 14.95. One formula that gives access to all of their service in unlimited. We appreciate the availability in this offer categories Designs, Logos and Videos. Indeed, thanks to these additional products, you will be able to manage all your advertising campaigns on a system of drag and drop, it's bluffing!
The subscription can be canceled at any time, but PlaceIt offers to buy visuals per unit, around $ 7 on average.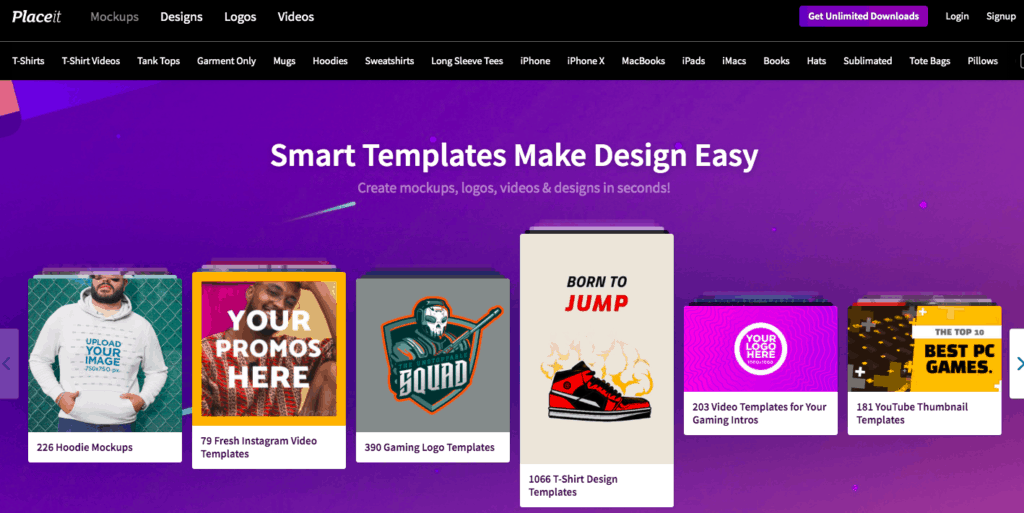 PlaceIt has two main advantages
Its monstrous database, with over 7000 mockups available, you will not have enough of a life for all to use
Its system of drag and drop, easy access to all. In short, you can power your shop in just minutes. Practice when his time is short and we want to bounce on the Buzz of the moment.

PlaceIt clearly appreciates the ability to acquire turnkey visuals in minutes. You do not have to be a designer or graphic designer to make a Mockup and open your online store. It is magic !
In conclusion: MockupCloud or PlaceIt?
Our conclusion will be brief and you should find your camp without too much trouble.
If you are one of those who want to go fast, who do not have too much graphic skills or who do not care too much: direction PlaceIt !
On the other hand, if you want to have complete mastery of your visual, to be able to touch everything, to have Mockups in unique PSD: you are made to MockupCloud !
From a tariff point of view, the two offers are now very close. If you go on a usage all year long, PlaceIt will cost $ 99 and MockupCloud $ 129
---
And you, how do you manage your Mockups? Are you from the PSD team or the Drag & Drop team? Feel free to reply in the comments!
---
If you want to go further, we advise you to bounce on our articles that deal with POD :