Among the ways to make money on the internet, Dropshipping is a truly trendy method. One of the main ideas of drop-shipment projects is to be able to launch quickly and at a lower cost. That's right … and wrong. This is a question for anyone who wants to get into dropshipping: get into Dropshipping, how much does it cost? What budget is needed to start a Dropshipping project? How much money do you need to start and run your shop?
Above all, do not take all of the following numbers as cash. Dropshipping means having your own shop, your own clientele, your own needs and, depending on the market, the budget necessarily differs.
The creation of your Dropshipping website
At the beginning of online business launch, the first thing to look into is your website. It is the base of all your dropshipping project, the equivalent of your web-based physical store.
If you're new to Dropshipping, our advice is to look at existing pre-designed solutions with CMS like Shopify.
Shopify was created specifically for the creation and management of online shops. Shopify is probably the best CMS today for the one who embarks on the adventure. One of the benefits, if you're not sure where you're going, is that a 14-day free trial version is available.
This is your first shop in Dropshipping? So find yourself a few quiet days in front of you and get your hands on Shopify: import products, work on your design, put yourself in the customer's shoes. If you like your draft, you can then switch to the paid version of the CMS.
These 14 free days allow you to test yourself more than to develop your shop. To professionalize the company, we will move quickly to the pro version. So let's start by adding to our budget the cost of Shopify : $29 by month.
Buying your own domain
Think immediately "business". From the beginning, have the ambition to create your brand: a simple site name that can be memorized. Imagine that one of your customers would like to recommend your website to an acquaintance: if your store name and domain name are too complicated, no one will remember them.
If you want to find a domain that has already been proven but is on sale, you can go to GoDaddy or JustDropped. The advantage is to be able to rely on a domain that already has some visibility in the eyes of Google on a brand name shorter than if you start from scratch. Take a look also at expired domain names … there may be good opportunities to take.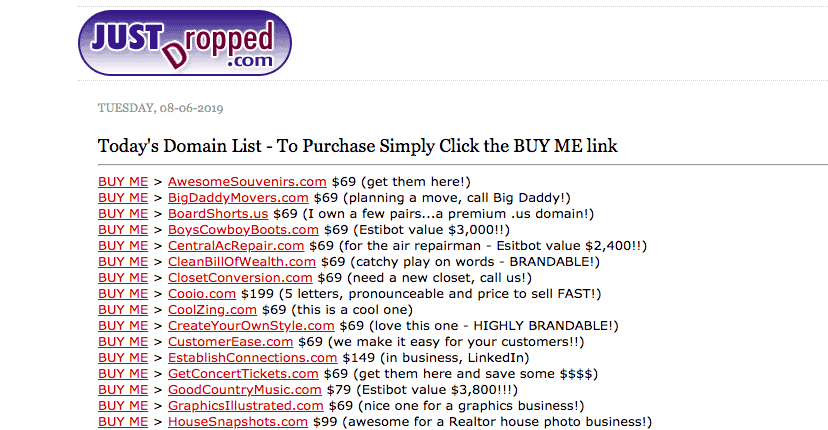 The most economical version is to buy a free domain name. For this, it takes about $10 per year.
Your graphic identity : 
No business without a graphic identity! Let's talk about the basic element: the logo. It is indispensable. If you are in a process of spending as little as possible to then promote your advertising budget, do it yourself. To make his own logo for free, the Canva option seems to me the most attractive. If not, with some basics in graphics, head to Photoshop or its free equivalent The Gimp.
However, if you want to put the odds on your side, entrust the creation of your logo to a graphic designer. On fiverr, you can have for example 3 differents logo proposals with many retouches for a sum ranging from $30 to $100… It may be worth it especially since your graphic designer can take care later secondary elements of your graphic identity.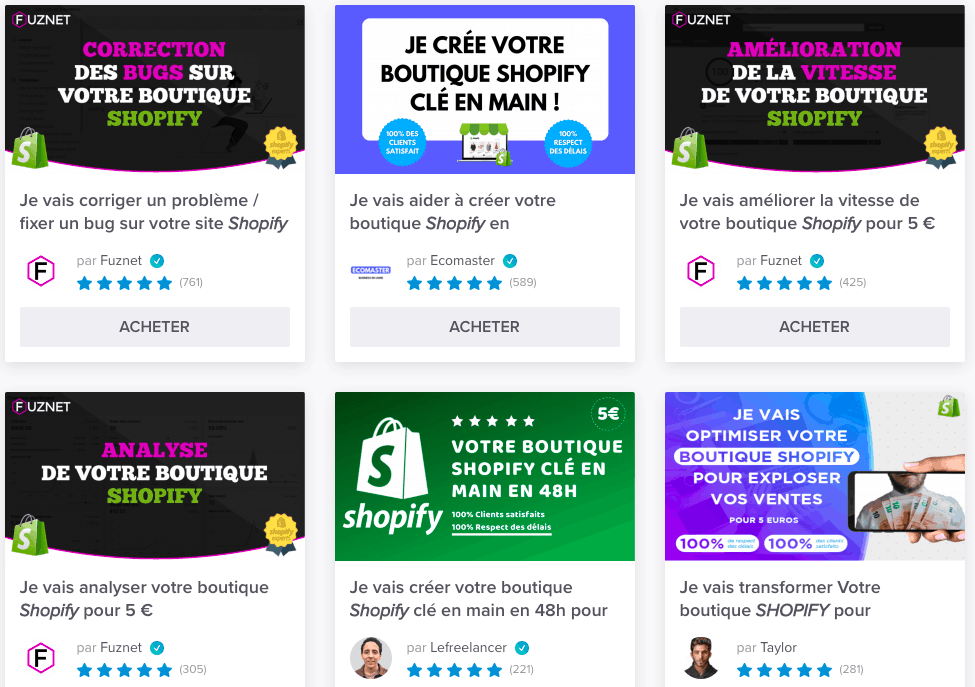 The Marketing Costs of your shop
Here we are. Most of the budget of your project in Dropshipping will go into the Marketing of your shop.
The marketing strategy applied to your shop is fundamental to the success of your project. This involves essential product promotion campaigns, targeted advertising, in which you have to allocate a budget large enough to reach your target.
The average conversion rate for online stores is between 1 and 2.5% (for the best). This directly means that you will need to generate a large number of visits accordingly, if only to make your first sale.
In the end, how much money for his Dropshipping shop?
Shopify Subscription : $29€ / month
Domain name : $10 by year (or around $1 by month)
Marketing and advertising Budget : $300 / month minimum
Total minimum for the launch budget of an online store: $330 / month
Optional additional expenses :
Graphic identity : $20 / month (via fiverr by example) for a logo and some graphic works like banners, promotional visuals, etc …
Additional advertising budget: + $200 per month to reinforce your position
Total for a reasonable budget to launch an online store: $550 / month
Do not be afraid of his budget in dropshipping
If these numbers scare you, it must be kept in mind that the advertising budget can always be reduced but … this may not be the solution to hope to have the expected success. When launching your shop in Dropshipping, it is essential to see advertising as an investment.
In order to carry out its project, the triptych: investment – control – piloting is inseparable from success.
Invest a large enough amount to hit traffic on your store
Control the KPIs of your ads, analyze the reactions, compare
React by adjusting your campaigns, change the visuals, vary the times of the year, to always optimize your targeting
Optimize your website for SEO
To reduce your advertising budget, you can also optimize your shop for SEO. I advise you to do it in parallel to your advertising, you will indeed indeed results only several months after the launch of your shop.
Once your shop is well referenced you will have customers targeted and interested in buying one of your products. SEO is not to be neglected.
And you, you plan to launch your online store? Are you in the process of budgeting for dropshipping? Share us your comments
---
On the same topic, you might also like :