Among the ways to earn money on the internet without special skills, membership is undoubtedly one of the best. But, be careful: this is not the miracle method that allows you to earn € 10,000 a day without working.
However, with a well-established system, affiliation can pay off a lot while measuring its efforts.
What is affiliation?
Affiliation means promoting a product or service and recovering a commission on each sale made through the affiliate. Concretely, an affiliate sets up a reward system, allowing him to have at his disposal a vast network of prescribes (or salespeople). Based on a win-win, affiliation is a great method to set up, especially if you already have your audience.
But which affiliate system to choose? How to earn money quickly through affiliation? We share with you some proven methods.
#1 : Earn money in affiliate without email list
To succeed in affiliation without an e-mail list, you will have to identify what are the "urgent" problems of Internet users. Generally, the "urgent" health problems are cited first. We are not talking about a serious or incurable illness, ethically, it is not at all in our state of mind. On the other hand, one can target problems of skin, hair, various and varied ailments, or even weight loss.
Put yourself in the place of Internet users: those who encounter an urgent problem in these areas will want an efficient and rapid result.
The weight loss market
Regarding weight loss, it is slightly different but there are commonalities. It cannot be said to be an "urgent" problem at the outset. What makes it urgent is the person's awareness of their point of no return. It's at this point that the big maneuvers happen overnight.
This market is ultra competitive. We strongly advise you to look for a niche for a chance to exist and not pass for the umpteenth guru. In our opinion, the tracks of weight loss through sport and nutritional education should be given priority, rather than miracle products (which most people believe in). You can for example become an affiliate of a sports program over X weeks (such as Freeletics or Calisthenics), which promote a sports solution that adapts to everyone and a good diet. Another "nested" track to exploit, adapt plans to special diets: vegan, vegetarian, gluten-free, lactose-free, etc.
Once your "urgent problem" has been identified, you can, for example, create a sales page on System.io so that it becomes the landing page for your advertising campaigns.
The idea is to seek Internet users at the heart of audience hubs (Facebook, Instagram, Google, etc.) to bring them to your sales page.
Via our link, you get a free 14-day trial without a credit card. By building your sales page today, you can launch a Facebook Ads campaign tomorrow and immediately measure the first feedback before validating the subscription.
#2 : Find your niche
We've talked about this many times, and in 2020 it remains THE number 1 criteria for the success of his plan to earn money through affiliation. If you are engulfed in a market in which hundreds of players are already present, you will find it extremely difficult to find your place.
On the other hand, by focusing on a niche, you will have plenty of time to work on the market and quickly gain legitimacy. The potential of certain niches is substantial. If your niche market grows, chances are you are the leader and the authority! All the work done upstream (which should not be underestimated) will turn into almost passive income that will only have to be maintained.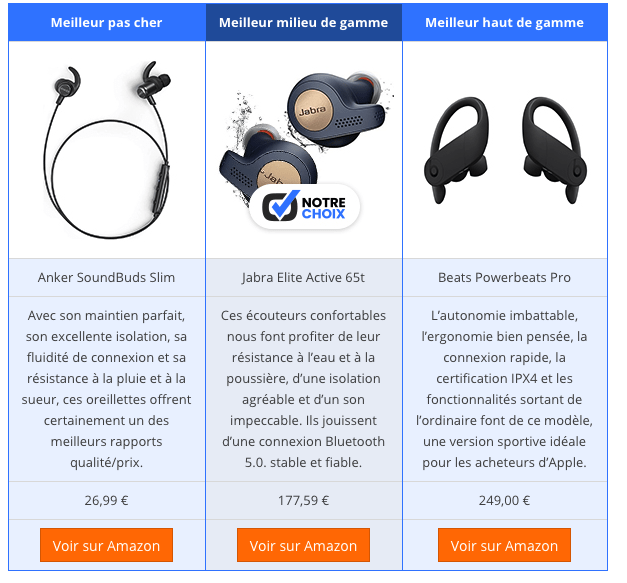 Finally, if you are ambitious, the next step will be to launch your own product. At this point, you will move into another dimension :
Control of the product and its quality
Control of his image
Complete control of your margins
Your turn to become an Affiliate
You focus on your product while others are selling it … What are you waiting to get started?
#3 : Find inspiration on an affiliate platform
You have no idea? Do you want to take a look at the platforms to find ideas for products or services to sell in affiliation? It's a good idea. We don't all wake up one morning saying "I have THE idea of affiliation".
Take the time to register on sites like 1TPE (or others). The best thing to do is to become familiar with the types of products. You'll discover some areas that you didn't even suspect affiliate compatibility, and hopefully you'll feel comfortable with.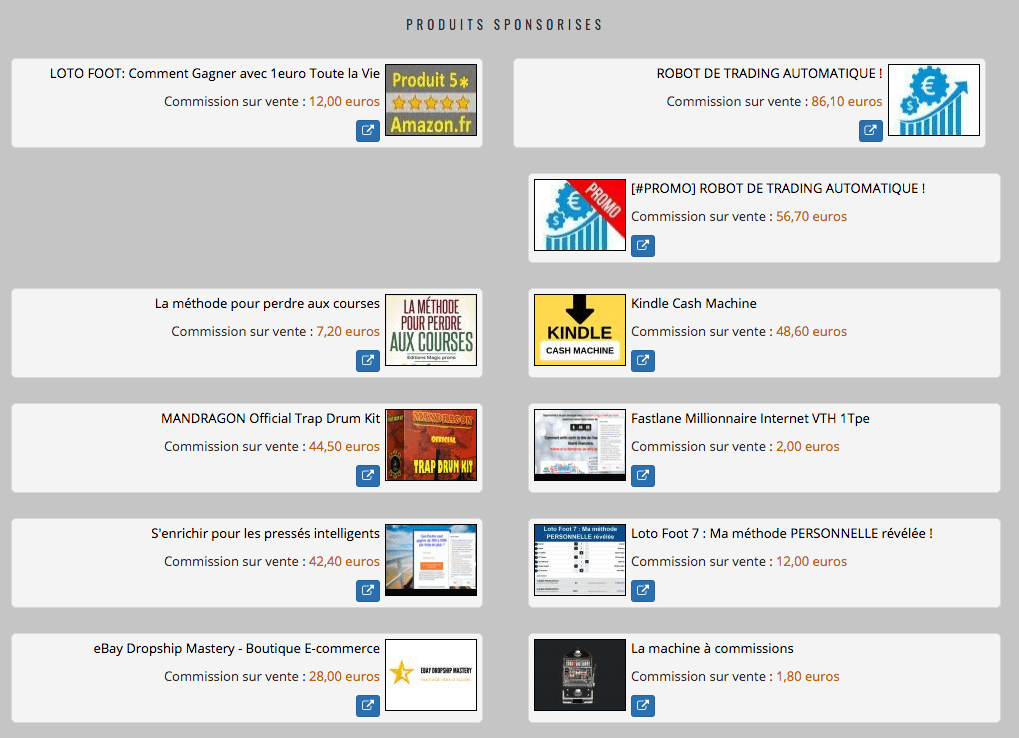 Also keep an eye on the commission rates for different programs. Try to project yourself into different scenarios: how many sales do you hope to make? How much does each sale bring in? Do you plan to focus on one product?
Finally, measure your market. Are there many actors? Generally, if there is a market, there is demand.
#4 : Monetize your audience, your website
As you know, the key to success is to mix short-term strategy with longer-term strategy. This technique is based more on the second.
Indeed, monetizing an audience implies having one. Building a website and attracting enough visitors every day often requires months or even years to achieve it.
Generally, when you launch a qualitative website, by dint of efforts you will achieve your goals.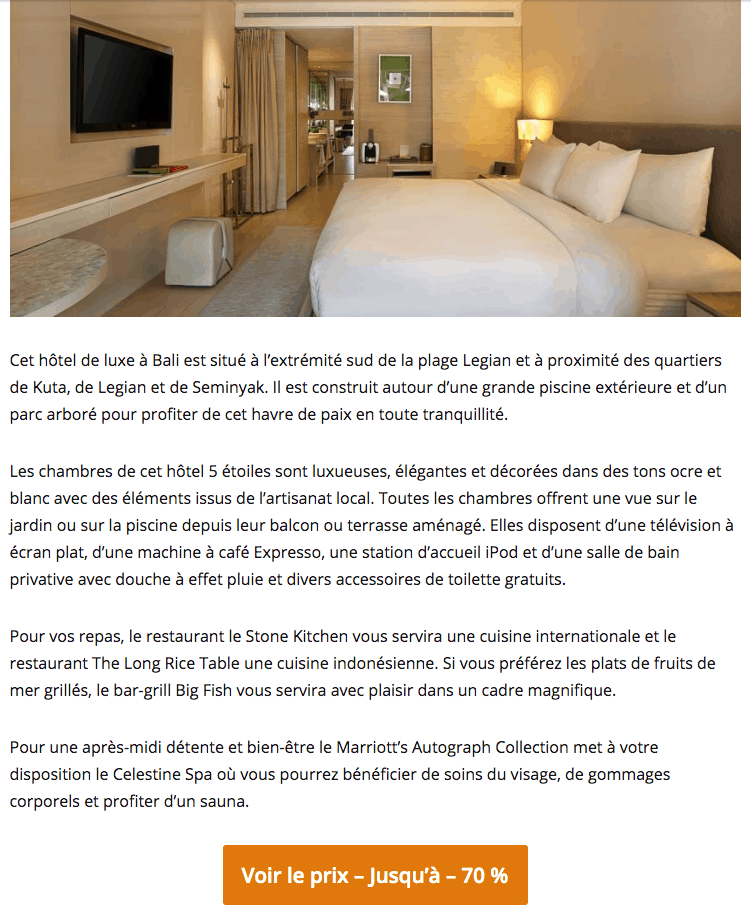 Monetizing the reach of your website means finding out how your visitors can make money for you.
Several affiliation techniques to monetize your audience :
Sponsored / Affiliate Links : take travel blogs as an example. In order to monetize its audience, we will integrate in its articles affiliate links on the hotels or activities that we recommend. This is the case of a blog that is both very qualitative and influential in the sector: Escape Book. You will note that integrating Affiliate Booking or other links does not in any way detract from the quality of the article. This last point is extremely important to maintain your legitimacy.
Suggest guest articles : Is your blog super influential in your field of activity? This is an opportunity to offer, from time to time, players in your market to write on your blog. Since we are talking about audience monetization, we will offer here a forum for him to highlight his product / service + his reputation + his legitimacy + a good quality return link! A real value for the guest who will therefore accept to pay you for it.
Open advertising spaces to advertisers. Old as internet, this technique consists in proposing spaces on your site in the form of banners, which you put on the hiring for advertisers. If you don't have the time to canvass advertisers to offer them your banners, there is always the possibility of opening up to turnkey solutions such as Google Adsense, Taboola or other. However, keep an eye on the quality
Bonus advice from Entrepreneur-Freedom
Having successfully completed many projects based directly or indirectly on affiliation, we have come to the following conclusions. Here, in our opinion, is the best advice for earning money through affiliation in 2020.
Many markets are saturated: force yourself to head for a niche!
Do not launch multiple projects at the same time. It's tempting, but you'll scatter yourself
Surround yourself! If you have a little budget, hire a Web Writer to give you the best chance of positioning yourself on the desired keywords.
Be persistent: your first affiliate commission can take several months to fall, and that's normal. Not only does it take several weeks to attract traffic from Google, it also has to generate enough traffic to successfully transform visitors. Do not abandon your project after 2 weeks! 6 months seems to us to represent a good test period.
Do you have any other tips to share with us on the best methods to earn money through affiliation? Have you tried any of the above techniques and want to share your experience with us? Let us know in the comment section or in our Facebook group!
---
If you are looking to earn money through affiliation, the following articles might interest you :