The creation of images for Social Networks, banners, product sheets, flyers, etc … can be a major obstacle to the creation of your ecommerce website. And those, especially if you do not have skills in graphics or if creativity is not your strong point! This is where Canva appears!
If you are looking for an easy, free and powerful alternative to Photoshop to create professional visuals, go ahead and hit Canva!
Canva: what is it?
Canva is an online graphic design tool. It allows to create and generate images and illustrations with a childlike simplicity.
Its concept is to start from the desired image format for graphic creation. Thus, if you need to create your visuals for Facebook, you will find the appropriate categories: Timeline Banners, Facebook Post, etc … The huge advantage is that all the visuals are pre-configured, and there are There is more to tackle the graphics part.
Canva perfectly combines DIY graphics with a database of rich and free templates. This is a real boon for the less creative of you, since you are now able, in a few clicks, to put yourself in the shoes of a graphic designer and create perfectly modern visuals and percussive. Magic, no?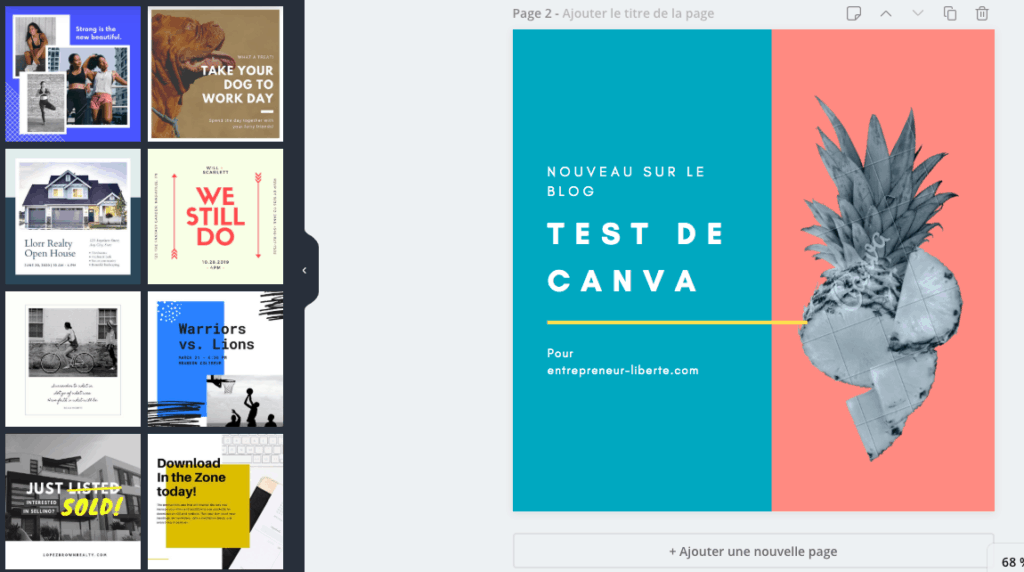 List of free features of Canva
Irrevocably, Canva's strong point is the wealth of its database of templates ready to be exploited. Concretely, if you need a modern visual design and creative for your social networks, it is done for free and in minutes.
With Canva, it is possible to create almost anything graphic, both for print and web:
Free Print Templates on Canva:
Business cards
Flyers
brochures
Posters and posters
CV
qualifications
Book Covers
Layout of reports
CD cover
Postcards
etc …
The list of free Canva templates for the web
A list that is not exhaustive, otherwise it would require us several pages:
infographics
Facebook: covers, publications, profile photo, etc …
Twitter: covers, posts, etc …
Instagram: story, publication
Snapchat
Twitch
Discord
Wattpad: book cover
Youtube: thumbnails, covers
Banners of blogs, pictures in the front page
Tumblr
Pinterest
etc …
As you can see, all types of visuals are covered by Canva.

One of Canva's main weapons is to constantly propose new templates. Indeed, each event is grafted his category of models ready to be edited. For example, seasonal events like Christmas, Halloween, Sales, Easter, New Year, etc …
Is it a free Photoshop?
Canva is a tool that can achieve a result very close to what you get with Photoshop but … without spending hours designing a zero design.
Of course, the limitations are brought by the fact that most people rely on templates. However, aspiring designers did not wait for Canva to try to save time by using free, premium or even homemade templates. A huge database already existed on Photoshop. All that has been done is to democratize the process and simplify it to the extreme. Today, literally everyone is able to edit a professional-looking visual, for free, thanks to Canva.
What about the Premium version?
The tool is a Freemium model. This means that a number of features are available for free, but can be expanded by subscribing to a paid offer.
In fact, the free version will be suitable for 90% of owners of websites or online stores, since all formats are accessible, exportable in HD quality.
The paid version of Canva will be appreciated by large companies, web professionals such as Community Managers, even some graphic designers or web agencies.
Indeed, the Pro version of Canva brings additional features :
Importing your own writing policies
Export in GIF and MP4
Team building
Creation of a brand identity: with its color palette, logos, etc …
Export in PNG with transparent background
Resize images in 1 click to fit all social formats
Access to more images in the image bank
In short, features bringing a real plus to the free offer. As is often the case with this type of tool, it is possible to test the paid offer free of charge for a certain period of time. We are asked for a CB number, but it is very simple to cancel your subscription before the first billing.
What other tools "Canva like"?
There are other tools that are perfectly free, fulfilling the same function as Canva. We like to vary tools and inspirations from time to time. Also, since almost everyone uses Canva, we sometimes feel that all images are similar.
Design Wizard
Another excellent alternative to Canva is Design Wizard. This tool allows you to create high-quality images and videos quickly. Standout features of the tool include a custom color palette, free font library and resize feature.
The free version of Design Wizard allows you to add text to images, add shapes to image designs and download designs in JPG, PNG and PDF.
If you opt for the Pro plan, you will have access to 60 image design downloads per month, the ability to upload your own images and to share directly to social media.
Popular templates include YouTube Gaming Channel Art, Wedding Invitations and Real Estate Video
If you know of others, do not hesitate to share them in comments: