The newsletter allows each company to maintain an intimate link between it and its customers or prospects. Subscribers to a company's newsletter are generally customers or potentially customers and have agreed to receive promotional information and offers from the brand. Thanks to this channel, companies can make a good part of their turnover. It is indeed one of the most efficient acquisition channels today. It is therefore essential for a company not to neglect this point. However, not everyone is aware of the best practices for newsletter delivery . As a result, many people leave money on the table.
Just follow a few key tips to make an effective newsletter that generates profit relatively easily and above all, without big investment. Indeed, it is enough to work on a base of customers and prospects who know your brand and who have agreed to receive your emails. So take advantage of it and develop a good email marketing strategy . Here are the 5 best practices for making your newsletter .
# 1 Define the purpose of your email and adapt the content
You happen to send emails of all kinds every day. It can be an order confirmation email, an abandoned basket recovery or order tracking information. Your customers who receive these types of emails open them more easily than newsletters. Indeed, they are interested in the purchase they have made on your website and wish to follow the progress of their order. On the other hand, promotional or news emails are less often opened. You have to be particularly cunning to make your emails interesting.
And the first thing to define is the purpose of your email . You need a clear goal that is worth sending an email to your list. You must therefore know if your email is an email for:
inform your subscribers of the arrival of a particular event (new collection, physical event, etc.)
inform about the general news of your brand
promote products or services
drive traffic to a blog post
or any other purpose.
The objective must be clear to achieve a perfect email thanks to the tips below.
You must then adapt the written content , according to your objective. An email must capture the attention until the end so that there is the least possible loss during the reading, before arriving at the first call to action for example. For this, it is essential to have solid foundations in copywriting. The copywriting is the art of convincing a person to perform an action after reading your content. You will understand, among the best practices for making its newsletter , it is essential to train in copywriting or to call on someone competent in this field.
The AIDA strategy
Here is a way to help you write effective emails: the AIDA strategy . The idea is to write a message with 4 main parts.
The first is to get the reader's attention . For this, your catchphrase must be punchy and make you want to know more.
The second phase of the strategy consists of arousing real interest on the part of the reader. From now on, the reader is really started reading and has a real interest in continuing.
Then, it is about bringing out a feeling of Desire from your prospect. You have to make him want to, promise him results for example.
Finally, all you need to do is get your prospect into Action , especially with your call-to-action (CTA)
# 2 Pay particular attention to "Call-to-action"
The call to action, or "call-to-action" is something that needs to get your full attention. Indeed, there are a few rules to follow to encourage your readers as much as possible to do the action you want . For this, the call to action must be visible!
Feel free to format a highly visible button instead of a simple link. The button should be a bright color (not too bright either, so that it still remains readable).
Depending on the length of your email, you can put your call-to-action at the end of your email (for short messages) or insert one also in the middle of your text (in a studied location).
On the button, you just have to indicate a word or a short sentence to make you want to click . For example, you can write "Discover" or "I take advantage of the offer".
# 3 Put the odds on your side so that your mail is read
You designed the perfect email. Now everything must be done so that it can be read by the greatest number of people. To do this, you must encourage your subscribers to open your email !
Three elements are then to work:
the title
subject
the first sentence
These three elements are visible in the mailbox of your subscribers. We must therefore encourage them to click while arousing their curiosity.
Before even clicking on the mail to open it, the reader must know roughly what it is. You should not give hope for something that will not be in the email. You can intrigue him by not giving all the information (anyway it would be difficult with the space allocated).
But he still has to know that you are giving him a surprise, or that you are offering him a discount code or some crisp information, etc. Do not hesitate to use interrogative sentences to engage the reader .
In addition to these three noteworthy elements, it is essential to think about the times most favorable for reading emails . Depending on your audience, there are indeed days and times when your prospects are more available and can more easily take the time to read your email. It is then a question of finding the perfect timetable for sending your email in order to optimize the opening rate .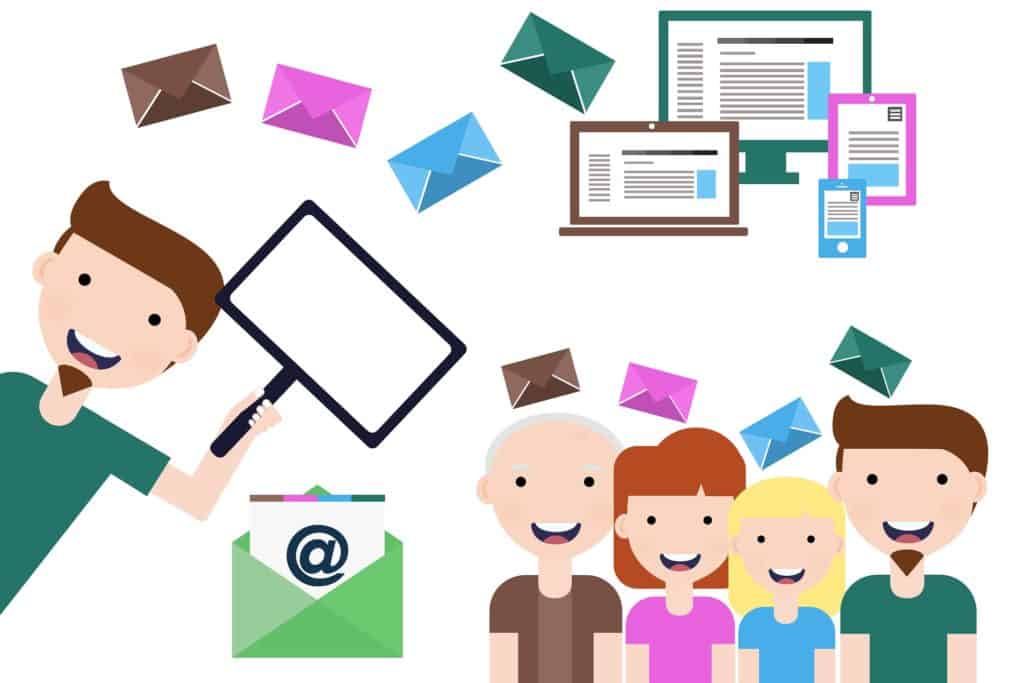 In order to choose the right words or the right times, it is possible, and even advisable, to perform A / B tests on all the information previously mentioned. For example, you can try different days of the week and different times to find the best times to send an email to your audience.
# 4 Segment your audience
Not all subscribers on your mailing list are created equal. Some are very committed and have even bought on your website. Others seem less interested and never click your calls to action. You need to be able to know your audience and be able to achieve audience segments easily.
For this, email marketing tools allow you to segment your audience into different sub-audiences so that you can send targeted emails . They will be more likely to be read and engage your audience since you adapt your speech to each audience segment.
This is one of the best practices for making your newsletter that must be taken into account to be sure of obtaining good returns on investment. If you do not segment your target and you send the same message to all your subscribers, whether they are customers or not, this is likely to not meet everyone's expectations. You risk a high unsubscribe rate for your newsletter.
# 5 Last tip for newsletter: Optimize the visual
An attractive email must include images or illustrations that support the purpose of the message. This is indeed more pleasant to read. The reader will be able to image your words and above all, the email will not seem to contain too much text which could discourage him from reading.
So you have to find the right balance between images and text .
Be careful however, it is necessary to pay particular attention to the blocking of images that may occur. Indeed, some images may not appear with some of your subscribers. In this case, remember to annotate each of your images with an "Alt" tag . You will just have to describe the photo in a short sentence. This will allow the reader to know what the subject of the image is.
Remember that 60% of emails are read on mobile. So you have to adapt your email and make it responsive design and therefore pleasant to read on mobile.
For further
You could read some best practices to make your newsletter and be sure that it is adapted to your audience. All you have to do is put all of this in place so that your list of email subscribers is a real asset for your business and brings you a regular and higher turnover than today. We sincerely invite you to do so and hope that all of these tips will bear fruit.
If you do not yet have an autoresponder, I invite you to have a look at our comparison of the different autoresponders on the market . If you use Klaviyo for ecommerce / dropshipping and GetResponse for product info, you shouldn't be wrong.
Discuss with us on the subject on our Facebook group .
You will also like: