Your shop is online? You took care to do things right : 
Choosing a strong and known CMS : Shopify or Woocommerce
Choice of a theme that is both aesthetic and designed to convert
A good choice of products, a good niche, a good killer product that should work in 2020
But there. Everything is online, there is more to wait for your customers. In real life, you have built your store and just placed the entrance mat. Proud of your work, you are in the starting blocks to pick the fruit of your work.
Only, nobody comes. Nobody or almost does not buy your products. The first thing to do, is to make a small inventory of the situation: why your customers do not buy at home?
The most common answer is that they do not know you yet! The efforts made to set up your shop are not enough. It's like building a house: it's not enough to buy bricks. We need to build something solid and coherent.
In this article, we bring you on a tray 6 tips to apply immediately to boost your business online. 
#1 : Boost your online business with advertising
Yes, to advertise, it still exists. It's just different from what you might have in mind. We do not advise you to take an insert in the local newspaper if you sell SEO training online. Advertising is allocating a budget of which 90% is useless … we just do not know which ones.
To hit the fair, start with a better knowledge of your potential customers.
Who are they ?
How old are they ?
What do they do on a daily basis? What is their job?
On which social networks do they spend their free time?
Which sites are influential for them?
Take a moment to answer these questions. Answer them conscientiously and you will discover the media in which to invest to advertise.
For example: are your potential customers essentially professionals? Go ahead and buy targeted advertising on Linkedin (or Twitter, depending on the domain). Be that as it may, there are many channels to test:
Google Ads
Facebook Ads / Instagram
Twitter
Linkedin
Youtube
Etc…
#2 : Create a Youtube channel in your niche
What we adore with this advice is that it is very cleavable. Indeed, many of your competitors will not launch the launch of a Youtube channel. The fact of posing in front of a camera and speaking requires a certain oral fluency and self-confidence. By modesty, we are relatively little to do it and there is always a place to take, no matter the niche. 
Just start by identifying the main problems your customers have: their questions, the best articles on the subject and make videos.
An almost unlimited source of topics that interests your customers is, for example, the Quora site. For those who do not know it, this is a site where people ask questions that visitors answer.
As we see in the example below, a user asked a question that could be the subject of an article if it was the theme of our blog.
Bonus : Answering these questions on a regular basis helps to gain legitimacy and notoriety. If your answer is good, you are an expert and have the option to drag a link to your site in the answer.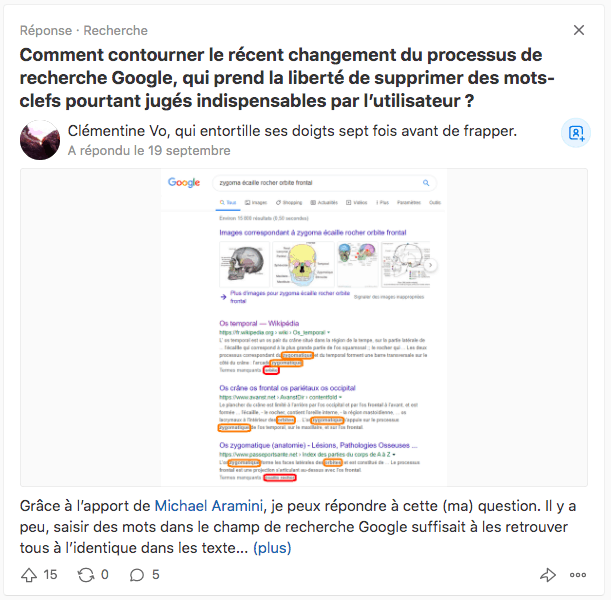 If you want to tackle a 360 ° theme, you can go to the tool « AnswerThePublic ». It will offer you a complete vision of the queries made on a subject.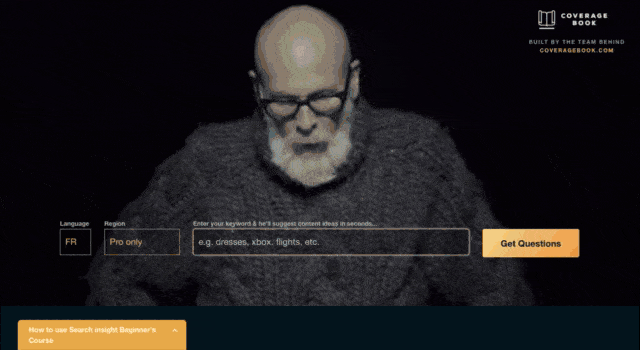 #3 : Have a long-term vision and work on your SEO
It has been said and repeated many times on this blog and on our Facebook page. The content allows to be in the results of Google. The backlinks make the position … When we said that, we said everything!
From Day 1 of putting your website online, work your SEO! Good practices :
Search for relevant keywords that interest your target
Offer quality content to its readers
Propose a satisfactory length of content, Google particularly likes what affects the 2000 words currently
Optimize what can be: images, tags, etc. based on your targeted keyword
Write guest articles on other blogs to get a link
Get links back to your articles because they are good
Make "TOP X" best books in your field, this can attract a return link from the author also
etc …
The key to any content strategy is keyword research and driving your actions. A preparatory work is absolutely essential to find keywords on which the competition is limited but which drain enough traffic to bring you visitors on the blog quickly. Our favorite tool for doing this preparatory work is SEMrush, for us the best on the market today. Feel free to test it and make your own idea :
If you are interested in SEO, take a look at our articles on the topic :
#4 : Create your community to boost your online business
Probably one of the most time-consuming steps: creating a community around its "brand". Creating a community is not done in a few hours, on the contrary. To create a community, one must first of all be perceived by its target as legitimate on a specific issue.
To create one's community is a lot of giving of oneself and one's time. The process begins with the creation of a private group, often on Facebook for practical reasons. If your project exists locally, it can be translated differently: Lunch / private parties, privileged workshops, etc … everything that brings your customers together.
The basic idea behind the concept is to turn your customers into ambassadors for your brand or product. As a result, a reward system is usually set up for clients to bring in new clients. 
We must see in each customer a potential commercial. Remember also that loyalty is the least expensive acquisition channel, and creating a community is one of the best ways to get your customers to join your brand (and thus renew your purchases)
The bonus idea: If you work a lot with Instagram, offer an affiliate system to the best accounts that follow you. Take the time to spot the micro-influencers and contact them with two things:
A commission on each sale made, traceable thanks to the "Reduction Code" that you provide them. Yes, your margin will be impacted, but you will increase your turnover. It's up to you to find where to put the cursor.
A post + story package sponsored by your brand. Be careful though the rates, depending on the product it may be difficult to make money.
#5 : Create a quiz
Everyone likes to play. Everyone loves to win. This is the reason why quizzes are so successful on Social Networks.
A great way to boost your online business might be to hold a quiz where you win a prize that is of value to your target. If you manage a shop Shopify, earn your best product!
The ultimate in the technique of the quiz is to associate with a brand / page with a large audience, allowing you to benefit from its reputation.
For example, if your page has only a few hundred likes, try to approach a page related to your theme that would have several thousand subscribers.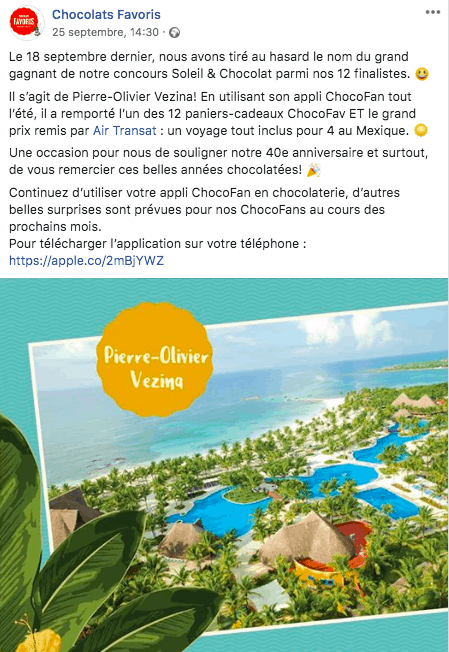 The game would be set up directly on their page, and among the conditions of participation should be "like" your page. A small "disclaimer" however to this method: it is officially "prohibited" in the conditions of Facebook, but the sanctions are rather very rare … 
#6 : Create a blog backed up to your shop
If you have an online store and regularly read our advice, it's probably focused on a specific niche. And each niche has its followers.
A niche often concerns a passion or a specific problem. Potential customers in these markets therefore tend to do very specific research on the subject.
An example: You sell coffee-related products in your shop: coffee maker, mill, Vietnamese filter, temperature-controlled kettle, etc. You will have every interest in developing a blog that talks about coffee in all its aspects and bring the best advice that would delight readers! This is how we gain an authority! Talk about tests, hobbies, methods, techniques, top 5 products, etc … The topics are almost unlimited.
A blog will only rarely bring you direct customers and it is almost impossible to measure the direct return on investment. All that we can advise you is to put the heart and especially the quality, because the quality always pays.
A quick reminder: once your article is online, only part of the work is done : What to do after posting your first blog post ?
What are your favorite techniques for boosting your online business?
---
This article might interest you :