You registered on fiverr and, after looking at what was on offer, you created a micro service for which you are competent and which brings real added value to buyers. Only you have no orders in sight. How to increase your visibility? What tricks can be used to make the customer want to order from you? How to get your first sales started? We will reveal everything to you.
Take care of your profile
On fiverr, you will be competing with several dozen sellers in the same theme. So it's important that you stand out from the crowd and that the user remembers you. To do this, bet big on your profile. Add a photo of yourself, smiling, rather than your logo. It doesn't sound like much, but it reassures the buyer enormously. If you want buyers to pay for your service, hiding is not the right attitude.
Put a description of yourself to inform the reader of who you are, your skills, your experience. In short, reassure him by proving that you are the right person for him.
Also take care of your cover photo. Choose a beautiful photo related to the theme of your services and add text to present your skills. And if graphics is not your strong point, call on a specialist on 5euros.com who will make you a beautiful banner at an ultra competitive price.
Optimize the description and the visual of your micro service
One of the most important things the buyer will see is the description of your micro service. So spend the necessary time on it so that everything is perfectly clear. Highlight the benefits that the customer will get, whether it is more visibility, more subscribers on his site, more sales, etc. And pay attention to the spelling. A text full of mistakes does not work in your favor and discredits your skills, even if you are an expert in your field. Proofread or have your texts corrected by a specialist (you will find very good ones on the site).
Create beautiful visuals to highlight your services. Make sure to keep a certain consistency and the same graphic charter so that the customer can find it more easily and associate your colors with your nickname. And there again, if that is not your strong point, head to the site's graphic designers.
Play on the options. € 5 is the call price, but if you really want to earn extra income, you will need to increase your average basket. So call on your imagination to offer optional services that will add value to your basic micro service.
Create several micro services because the more you have to offer, the more you will be visible. Be careful, do not duplicate your services, it would be for nothing else than to be excluded, but offer services in cross-selling. If for example you are a graphic designer, do not offer logo and flyer creation on the same service, but create two different ones.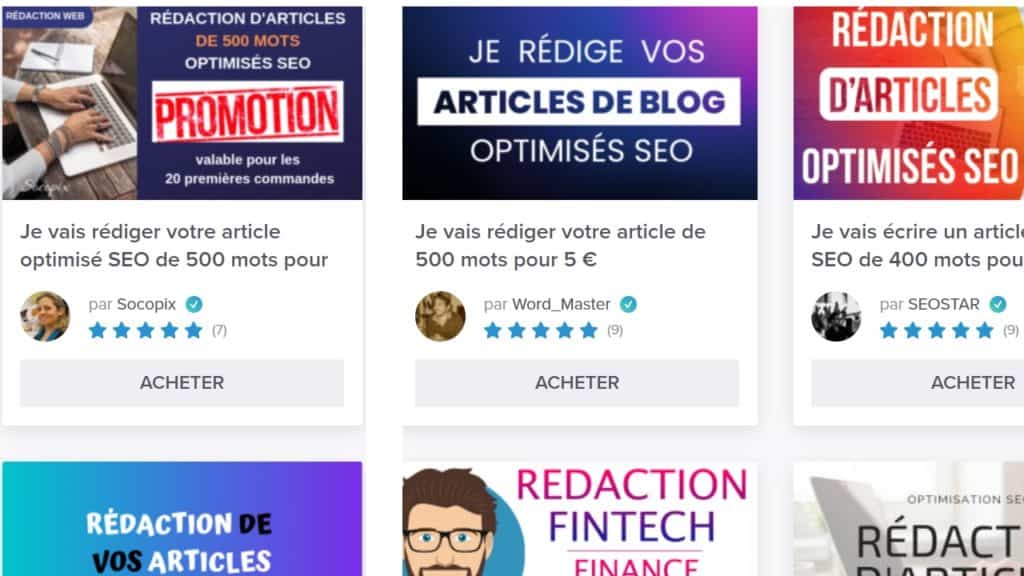 Set lower rates to get started
You are completely free to set the price of your micro services. There are however two things to respect: the first is to offer a basic service at 5 euros. The second is to offer options whose price is a multiple of 5. Apart from these two aspects, you are free to set your rates. However, if you are starting out and your goal is to make your first sales, it is in your best interest to offer lower than average prices, to attract another type of clientele. You will probably be working at an hourly rate that is completely ridiculous when you start out, but don't forget that the goal here is to make your first sales to get your first opinions. Once you get started and orders arrive more regularly, you can increase your prices.
Be careful not to go to extremes either. If you offer to do double the work that your competitors do, not only will you spend a lot of time there, but you won't be credible with buyers. Find the middle ground.
Respond to all requests from buyers
If there is one aspect that should not be overlooked, it is customer relations. On Fiverr, you will receive many requests for quotes, even if your prices and services are clearly displayed. Respond to each request very precisely, and do it as soon as you can. Indeed, under your nickname, the site displays information, including the response time. If you take 2 days to respond to a request, it is a safe bet that the customer has followed up with another seller. Be responsive!
Any quotes you make will not turn into a firm order. But if you are convincing and warm, you will have an increasing transformation rate. And if the customer does not respond to your quote, nothing prevents you from contacting him a few days later to find out if his request is still current.
For each of your deliveries, remember to ask the customer to leave you a notice. This will allow you on the one hand to reassure your future buyers by showing them that they can trust you, and on the other hand to climb in the ranking of 5 euros. Your first opinions will have a snowball effect.
Make your own promotion
This is one of the basics when you are freelance: talking about yourself and your skills. You may not have the commercial flair, but you can still talk about your services to those around you to start putting the machine into operation. Tell your friends, neighbors, sports colleagues, etc. Make pretty flyers explaining what you offer and put some up at local merchants.
Join Facebook groups related to your specialty. But beware, avoid forcing and talking all the time about what you offer. Be subtle and try to get other users to ask you questions about what you are doing.
And you, you are registered on Fiverr? Share your tips that helped you get your sales off the ground.
You will also like these items :